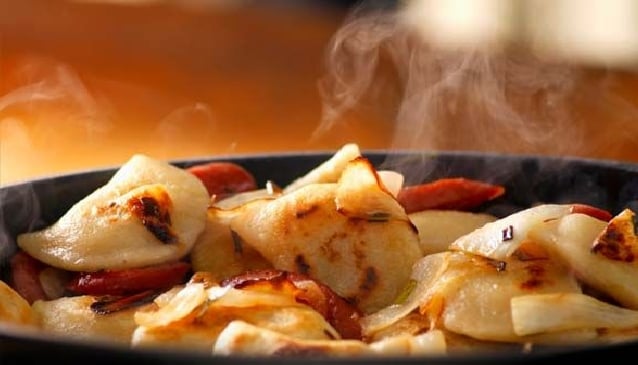 A Feast for a King in Krakow
Food & Drink
A traditional Polish obiad (the midday meal) always begins with soup, and the choices are vast.
Krakow is a feast for the senses, a whirl of colourful architecture, rich history, creative street art, lively music and vivid tastes. It is a beautifully preserved medieval wonder to be explored leisurely on foot, revealing cultural gems at every step. For those who would like to delve a bit further into the local culture, exploring via the taste buds is the best place to start. The restaurants in Krakow are yours for the tasting!
Polish cuisine is rich and full of diverse tastes, from sour soups and savory dumplings to delicate desserts. Wherever you choose to eat, you can be assured of quality ingredients and unforgettable tastes. There are several dishes you simply cannot miss during your stay in Krakow:
Pierogi are perhaps the best-known dish of Polish cuisine. These little dumplings can be filled with potato and white cheese (ruskie), cabbage and mushrooms (z kapusta i grzybami), meat (z miesem), blueberries (z borówkami), strawberries (z truskawkami), and more. They are served at almost every eatery, from cafeteria-style bars to high-end restaurants. There is a pierogi festival every summer, featuring some of the more creative fillings.
A traditional Polish obiad (the midday meal) always begins with soup, and the choices are vast. One of the best is zurek a sour soup made on the base of white sausage and fermented flour. It's usually eaten with potatoes, sausage and egg. Another popular favourite is barszcz a broth made of beets and often served with uszka, little mushroom dumplings. In the summer, a cold version of barszcz, made with the addition of cucumber, dill and cream, is very refreshing.
One dish you should have homemade if you possibly can is bigos, a stew made mostly of cabbage and sausage, and different in every household. It should be simmered over a long period of time and flavoured with wine, wild mushrooms, or whatever else the cook prefers. Traditional meals in Poland are heavily based on meat, most popularly pork. The classic midday meal is kotlet schabowy, a breaded and fried pork cutlet, to be eaten with potatoes and any of a selection of surówki, salads of fresh vegetables, often grated (the most common being beets, carrots with celery, cabbage, or cucumber and cream).
Even if you're not a fan of meats, Polish ones are worth trying. Go to any deli and pick out a thin strip of kabanos, the smallest and spiciest sausages, or select from among a display of different kielbasa. The gourmet foods shop Krakowski Kredens, just off the market square, is a good place to find quality, old-style Polish meat products, as well as traditional preserved vegetables and many more.
A regional specialty is obwarzanek, the twisted, fluffy rings of bread you'll see being sold from carts all over the Old Town, produced in Krakow since the middle ages. Sernik (a light, crumbly, aromatic cheesecake) is a popular dessert you'll find in all cafés and bakeries. Other sweet treats include szarlotka, an apple cake usually served with cream, and nalesniki, thin crêpes filled with white cheese and fruit (but also often served savory).
From crumbling little nooks to resplendent chandeliered halls, Krakow's cafés, bars and restaurants are at the base of the city's unique style. At any time of day you'll see locals and tourists alike lounging at outdoor tables, sipping one of the local beers, or seated in the quaint picture windows that line the narrow streets, feasting on local specialties. An almost limitless choice confronts you when it comes to atmosphere, style, décor and taste, but for the real Cracovian experience, here are a few of the best.
A feast fit for a king is to be had at Wierzynek, where Europe's royalty were once among the guests. The eight stately rooms of this historic building once hosted the greatest leaders of medieval Europe. You too will feel like royalty, seated beneath carved ceilings and heavy chandeliers, dining off a silver platter. Wierzynek stands at the corner of the Market Square, a stop on the path from Krakow's old city gate to Wawel Castle, and while kings no longer walk this Royal Route, the restaurant still hosts celebrities and heads of state.
Pod Aniolami (Under the Angels) is another gem of the Krakow restaurant scene. It offers award-winning Polish cuisine with enchanting style. It also lies along the Royal Route, in a renovated 13th-century goldsmith's workshop with an elegant dining area on the ground floor and two grand medieval-style rooms in the cellar. The menu is based on traditional 17th-century recipes and boasts a variety of marinated and wood-grilled meat dishes, as well as local vodkas and liqueurs.
Kamienica Szara (Grey Building), a historic building on the main market square dating from the 13th century, complete with colourfully painted vaulted ceilings, houses the excellent restaurant Szara. Its location makes it almost unbeatable, next to the Mariacki Church, facing the Sukiennice and the statue of Mickiewicz, with outdoor seating in the summer putting you right in the center of it all. A sister restaurant Szara Kazimierz in Jewish Quarter, located on Szeroka street, provides a quieter setting in the heart of the Jewish district. The menu is a fine example of the high-quality international cuisine available in Krakow, combining exceptional variety of flavour with elegant presentation.
While old Polish fare is a must for any visitor, Krakow has much to offer in international cuisine. Sushi has recently risen in popularity and high-quality Japanese restaurants are appearing all over the city, while Italian has long been a favourite and can be found throughout the Old Town. The Jewish district of Kazimierz, especially Szeroka street, is lined with excellent old establishments offering traditional Jewish dishes. And while you're in Kazimierz, don't forget about Krakow's incredibly rich café culture – a perfect night out is best finished with a drink in a Kazimierz café garden, watching the summer sunset or admiring the stars over the scattered church spires.
Written by:
Anna Maciejowska
PUBLISHED: Jun 9th 2017