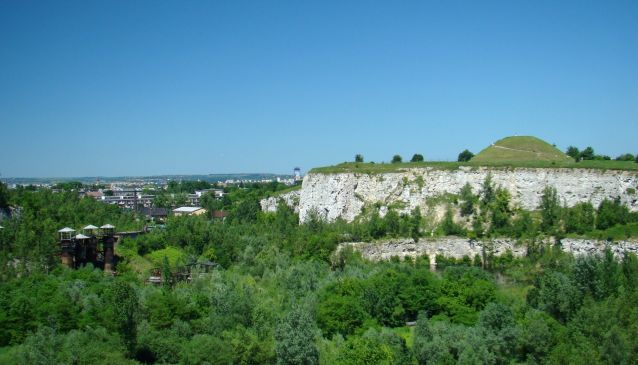 Podgorze Walk On By
Adventure
Only few minutes walk will take you to the sight of inactive limestone quarry called 'Liban'.
Podgorze once used to be a separate town. Elements of its previous administration centre are still visible: a market square (Rynek Podgorski) with a Municipality building on its corner and a neo-gothic St. Joseph's Church – the main parish of Podgorze. Very rich history of this place dates back to old Slavic times (Krakus Mound devoted to a legendary prince of Krakow is located here) and early medieval activities of Benedictine monks, who founded here a tiny church of St. Benedict. Every Easter both sights are visited by crowds of locals, who come here to celebrate Rekawka fair.
Podgorze is known for its very tragic period of WW II. Krakow's ghetto for Jewish community was founded and operated here between 1941-1943. Roman Polanski – famous movie director – was one of its residents and survivors. Ghetto of the Heroes Square used to be a place of selections of people later transported to concentration camps. Today the place presents an installation of 70 metal chairs, symbolizing belongings abandoned by Jews send for extermination. On the square corner there is a museum named 'Pharmacy under the Eagle', which used to be ran by Tadeusz Pankiewicz, the only Pole permitted to stay in the ghetto area and an author of famous IIWW memoirs "The Cracow Ghetto Pharmacy". Only few minutes walk will take you to the sight of inactive limestone quarry called 'Liban' – in WWII operating as a labour camp for Polish and Ukrainian prisoners.
Podgorze lost its stigma of post-war neglected and abandoned district in 1993, when Steven Spielberg filmed The Schindler's List. Oscar winning movie was the first step in a series of big revitalization projects. Opening of an exhibition called "Cracow under Nazi Occupation 1939-1945" in Oskar Schindler Factory in first few months drew attention of over 25 thousand visitors. It is enough to stand for a few moments on a bridge connecting Starowislna Street with Ghetto Heroes Square. One can immediately notice dozens of tourists crossing the River Vistula, with their noses in city maps, looking for Oskar Schindler Factory.
At present Podgorze is experiencing the so-colled 'Bilbao effect'. Just like in case of Guggenheim Museum in Bilbao, tourists completely changed the perception of this place and started a process of district social and economical rebirth. The place is slowly embraced by those who want to bring back life to this part of the city. New art galleries, bistro bars and restaurants are open here and there almost every day. Definitely worth recommending is 'Ogniem i Mieczem' restaurant and a French style bistro Zakladka. If you are looping for some high quality Polish art and graphics, 'Galeria na Placu' is a must to visit.
Note: Author of the article is a licensed tour guide in Krakow and member of Viator Tour Guides.
Written by:
Anna Maciejowska
PUBLISHED: Jun 9th 2017