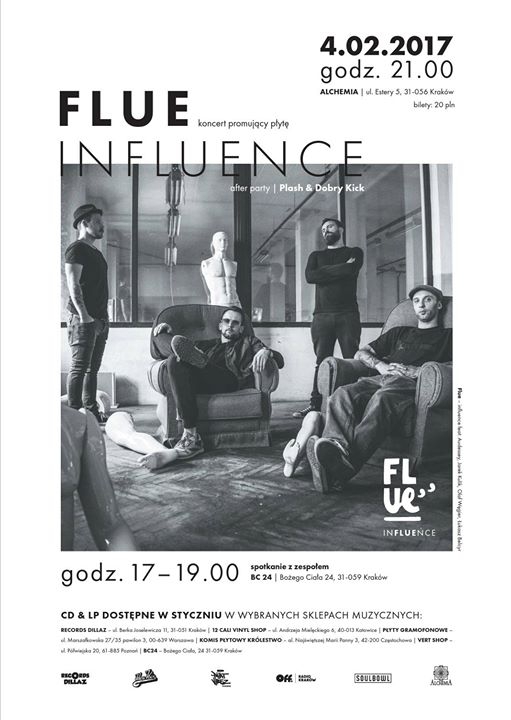 Flue Concert in Alchemy Club
Klub Alchemia
Sat Feb 4th 2017 at 21:00 until 22:00
---
ul. Estery 5

,

Krakow

,

Jewish-Quarter
https://www.myguidekrakow.com/events/flue-koncert-promujacy-nowy-album-influence
---
Alchemia
MAKE ENQUIRY
Event Details
We invite you to Alchemy Club to the premiere concert of FLUE Band promoting the new album 'Influence' !!!

Ticket price: 20 PLN

Fusion of four totally different personalities gave us an explosive mixture, fruit of which is an independent project that stylisticly refers to the 70/80 music like dirty funk, jazz, hip-hop and disco. Every gig is an adventure,that is never the same. Frequent deviations of compositions, improvisations, as far as characteristic sounds are the elements of common passion. Those responsible for the mess are: Marcin Przeplasko a.k.a. DJ Plash, Piotr Bolanowski, Grzegorz Sipiora and Damian Niewiński. The junction of keybord instruments, bass, percussion, drum pads, gramophones together with the sampler is something between old school and modernity. The band has numerous gigs under their belt,that arouse interest from the very beginning. Apart from gigs, the band was taking part in many bboy battles, during which the band's characterisitc breaks were played. In the summer of 2014 musicians decided to record their independent project in the studio. Samples of their work will be released in next year. Four people one love for music=FLUE.

Zapraszamy 4 lutego 2017 na 21.00 do Alchemii na premierowy koncert zespołu FLUE promujący nowy album Influence !!!

Gościnnie na koncercie wystąpią: Jarek Kulik (perkusjonalia) oraz Olaf Węgier (saksofon).

Album "Influence" (2017) to debiutancki krążek grupy. Pokazuje on szeroką gamę stylistyk muzycznych, w których obraca się grupa: od hip hopu, poprzez brudny funk, jazz aż po muzykę dance. Na płytę grupa zaprosiła pochodzącego z Atlanty raper Audessey'a oraz zaprzyjaźnionych muzyków: saksofonistę Olafa Węgra, perkusjonalistę Jarka Kulika a.k.a. Shambalaya oraz gitarzystę Łukasza Belcyra.
Na miejscu będzie można zakupić naszą płytę oraz nowe koszulki według fenomenalnego projektu Michała Suski!
Po koncercie imprezę poprowadzi znakomity krakowski duet – DJ Plash & DJ Dobry Kick !!!


Zapraszamy również przed koncertem do sklepu BC24 przy ul. Bożego Ciała 24, gdzie w godz. 17.00-19.00 będziemy podpisywać płyty oraz powiemy kilka słów o pracy nad naszym albumem.

www.facebook.com/flueband

DO ZOBACZENIA !!!