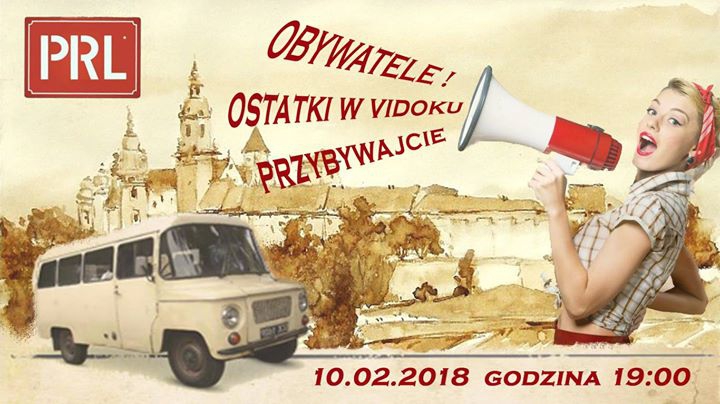 Event Details
Shrovetide in the atmosphere of PRL in the Vidok Restaurant.
A party with a DJ in the style of the '60s and' 70s.


Ticket 120,00 PLN/person.

Warm Menu:
Żurek z białą kiełbasą i jajkiem,
Staropolski bigos,
Pieczeń wieprzowa w sosie pieczeniowym,
Gołąbki w sosie pieczarkowym,
Zapiekanka ziemniaczana,
Kluski śląskie,
Buraczki,
Surówka z białej kapusty,
Surówka z marchwi.

Open Bar
Woda mineralna gazowana, niegazowana,
Kawa, herbata,
Soki owocowe,
Napoje gazowane ( Pepsi, Mirinda, 7UP),
Piwo Żywiec,
Wódka Wyborowa,
Wino białe, wino czerwone.

Cold Menu:
Patera mięs pieczonych, wędlin i kiełbas ( 4 rodzaje),
Sałatka jarzynowa,
Śledzik w śmietanie,
Śledzik w oleju,
Tymbaliki drobiowe,
Deska serów,
Pasztet z żurawiną,
Szarlotka,
Sernik,
Pieczywo.

Zapraszamy.