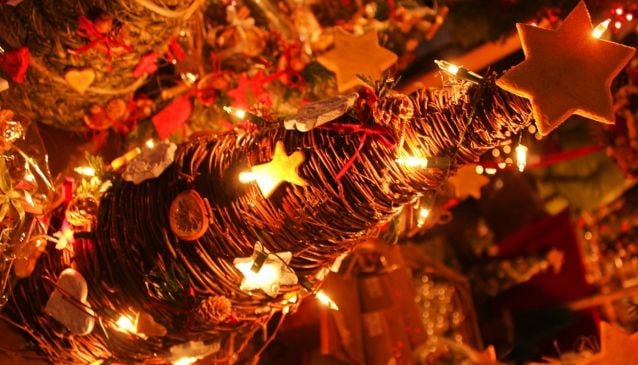 Krakow at Christmas
Editorial
My nose twitched as the aroma of freshly roasted chestnuts and spicy sausages led me into the throng
'We Poles don't like drinking alone, so we all sit together and make a toast each time instead!'
Throwing his head back jovially with a mischievous twinkle in his eye, Bogdan laughed at this fact whilst nudging me in the ribs and encouraging me to do the same. As his giggles subsided he whipped his head back, expertly tipping a measure of purest vodka down his throat.
It is my first night in Krakow and already this was the norm. Mere hours earlier our group had arrived in Poland, along with Bogdan, our Polish guide and tourist board representative, to a very warm welcome. Bundled into our minibus and Bogdan had appeared, grinning, a clanking paper bang scrunched in his grasp and a tower of plastic cups in the other.
"We toast," he announced, revealing a number of small bottles of vodka that he passed to each of us. Raising his glass he continued: "To our trip! Na zdrowie!"
Draining his small measure, we followed suit, wincing at the alcohol's furious purity. As a sparse drinker, and definitely not a lover of vodka, the pungent liquid turned my insides into a blazing furnace, warming me from the inside, out.
Now, three courses in and three flavours of home brewed vodka later, and I'd been converted. We were sat in Pod Baranem, one of Krakow's finest family-run restaurants, whose famous duck dish had left us salivating and satisfied. The night had been spent gathered around the table swapping stories and heart-warming toasts, like a family dining at Christmas.
Our day had been spent sampling some of Krakow's highlights. After a lunch showcasing Poland's local delicacies, like salted herring and grilled sheep cheese, we'd descended into the Wieliczka Salt Mines. The mines were operational for nearly nine centuries, and their labyrinthine tunnels and dramatic open chambers prove to be one of Poland's most popular attractions. Entering the mine's 'best bit', St Kinga's Chapel, is definitely an eye-opener. Sculpted entirely from the salty cavern, its vast size and skilled architecture really is striking. Similarly, the Weimar Chamber, where unstirring green water rests below a monument of Józef Piotr Kowalczyk, and the Staszic Chamber's 36 metre height are staggering.
Krakow's historical appeal doesn't stop there. The next morning we woke to another crisp and bright day for a tour of the Old Town and Wawel Castle. Sitting on top of Wawel Hill, the stone built castle is the stuff of legends. Kings ruled there, and a dragon slept at its foot. Nowadays, it is a mark of Poland's history where crowds gather to wander its cobbled alleys and courtyards, and visit art exhibitions.
But it wasn't Poland's history that we'd come to Krakow for. It's nearly Christmas, and Krakow certainly knew it: in the city's main square, the Christmas market was in full swing. My nose twitched as the aroma of freshly roasted chestnuts and spicy sausages led me into the throng. Wood cabins filled one side of the square as fairy lights twinkled overhead in a bed of vines. Mulled wine was served from within enormous wooden barrels. Meat sizzled on over-sized grills and cabbage steamed from their pans.
The Christmas market runs from the end of November until 6 January and flanks the iconic cloth hall. On the hunt for Christmas presents, I was tempted by the sparkling and vibrant wares. Hand painted baubles surrounded gingerbread men ornaments that twinkled with glitter. A blacksmith skillfully moulded metal into personalised jewellery. After a couple of rounds, snapping away with my camera trying to capture the magical scene, I settled for a pair of fur and suede snow boots for my month old nephew. As snow started gently falling, I wrapped my scarf a little tighter and looked at the scene before me. It was the epitome of Christmas.
Later that evening, we once again found ourselves gathered around the dinner table, this time at Piano Rouge. The grotto-cum-cellar was decorated by Gothic red and black tapestries and velvet furnishings, set alight by the dimly glowing lamps and candles. Vodka flowed like water as toast upon toast was made as if reeled off from a list, our new found family praising anything and everything.
Raising his glass one again, Bogdan proposed: "To our beautiful ladies, and wonderful gentlemen. We toast to Krakow, and the fun we've had this weekend. Now drink up and we can get another bottle."
Hear, hear. (Providing my liver can handle it!)
Listings:
Trip organised and funded by Polish National Tourist Office
Pre-flight stay: Radisson Blu, Stansted Airport
Written by:
Anna Maciejowska
PUBLISHED: Jun 9th 2017