Garden le Scandale
Krakow
International Breakfast Restaurants Bars
To the Le Scandale also belongs Garden Le Scandale - garden, open during summer but also in winter available through appropriate enclosures. We also invite you for breakfast, every day from 8:00 to 12:00 !
Plac Nowy, arguably the social hub of Kazimierz, has many types of bars to choose from, but if your tastes lean more towards the smart, the elegant and the cosmopolitan then the only true candidate is Le Scandale. Le Scandale, like the more recent Scandale Royal in the Old Town, is a sophisticated cocktail bar that also offers an extensive and tasty food menu, and is a favourite with Krakow's stylish set.
Situated towards the northwest corner of Plac Nowy, Le Scandale has the obligatory pavement tables where one can relax during the warmer months and pass the day people watching. Moving inside you find a stylish, discreetly lit interior where, beyond the comprehensively stocked bar, there are a number of cosy rooms decorated in varied fashions. There is also a substantial garden to the rear that is open during the summer. The clientele here is invariably well dressed, and the staff is skilled, friendly and efficient - this is not a bar for rowdy stag parties.
On the menu is a generous selection of bar snacks, steaks, fusion dishes, breakfast bites, salads and desserts, at surprisingly reasonable prices and including decent vegetarian options. Le Scandale is also famous for its themed events, which it holds from time to time, such as Cuban parties, Hawaiian parties and beach parties.
Le Scandale Kazimierz is open from 8 in the morning until the last guest leaves, seven days a week; and if you don't fancy one of the 80 or so classic, modern or speciality cocktails on offer, the barman will be happy to try and accommodate you.

BREAKFAST:
Would you like to start your day like people from Krakow and eat a delicious breakfast? Visit our restaurant! We start serving breakfasts at 8:00. We're using local produce and high quality is our trademark - find out yourself!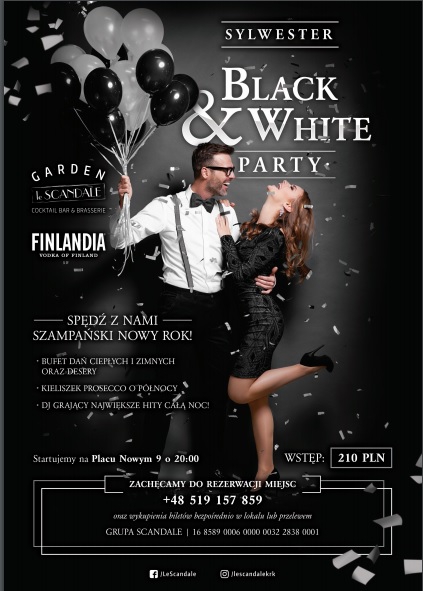 Budget
Best For Whom
Business Travellers

Groups

Couples
Best For What
Lively Atmosphere

Girls' Night Out