Scena54
Clubs Cocktail Bars
It is a perfect place for both grand events and intimate evenings with friends.
The emergence of Scena54 made the most fashionable place of the last two seasons, the Dolne Młyny complex, enriched with a prestigious club. Twice it refers to the legendary New York Studio 54 - offering a rich entertainment and cultural program, but also moving its guests into the atmosphere of old Manhattan, where the cocktail culture was born. Classic cocktails served by elegant bartenders are a tribute to this tradition. Inspiration with the legend is not accidental - the place is to provide high-quality entertainment only for carefully selected customers, thus providing it with great fun in a secluded atmosphere.

The varied artistic program of the place includes both conventional events and more extravagant events. Guests can, therefore, participate both in the evening accompanied by live music or play at DJ sets. Scena54 also await for those who love the theatrical show with a hint of spiciness. The seekers of stronger impressions, interested in taboo topics, can find there, for example, Japanese shibari show art or other freak show events. On the other hand, those for whom good humor is important in life can watch stand-ups by best polish comedians.

The heart of the club is a centrally located bar. This is where Scena54 guests can choose from high-class alcohols and taste the cocktails prepared by professional bartenders who are familiar with the secrets of mixology. Although the venue serving classic cocktails is primarily a Manhattan-based mixing school, the service is ready to improvise anytime. At guests' request, they will prepare any combination of flavours and aromas that are perfect for this particular evening.
Scena54, preserving the atmosphere of a cosy and secluded interior, introduces a new quality to the entertainment offer of Krakow. It quickly becomes the favourite.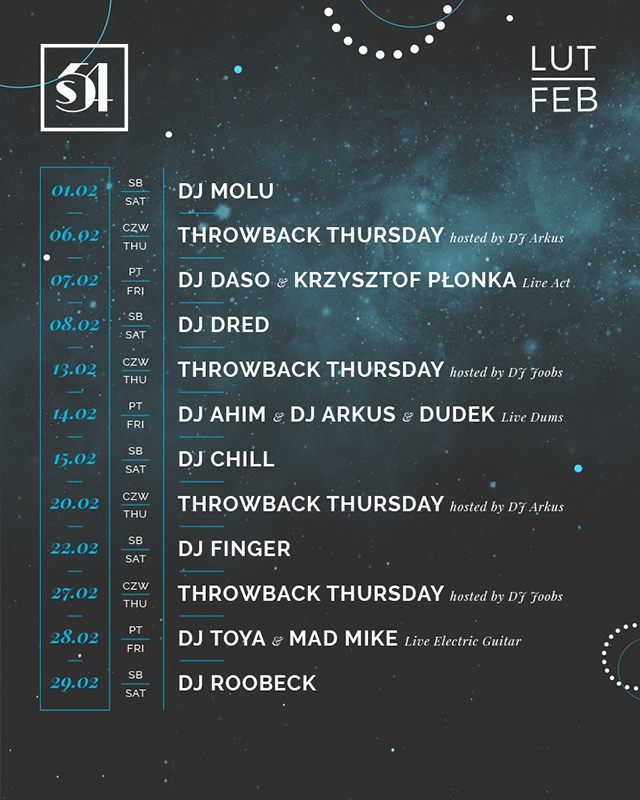 Budget
Best For Whom
For Her

For Him

Couples

Groups
Best For What
Live Music

Cocktails

Lively Atmosphere

Late Nights