A Tale of Two Cities
Inspiration
Warsaw thinks it's Europe's New York, Krakow thinks it's a cross between Oxford and Rome
Two cities that represent two sides of Poland: one the capital, one the former capital; one old, one new. We have local pride, tradition and just plain old rivalry in a classic grudge match. Let's get ready to rumble!
Round 1: History
The opening round plays to Krakow's strengths. One of Poland's oldest cities, it was already extant at the nation's birth in 966. It was the capital from 1038 until 1596, when that honour was wrested away by the upstart (although Krakow's Royal Castle remained the burial place of kings, military heroes, poets and even presidents).
Warsaw was capital of Poland until 1796, when an unfortunate sequence of events meant that Poland ceased to exist as country for the next 120-odd years. During this period, Warsaw was nevertheless capital of whatever region the then-occupying forces defined for it. By contrast, Krakow, which was in a separate country to Warsaw for much of this time, had to content itself with being capital of the Grand Duchy of Krakow from 1846 to 1918, at which point Poland sprang back to life and Warsaw took over the top job once again.
The Second World War did Warsaw no favours: what the Nazis failed to destroy (very little) was left to the occupying Soviets. Krakow, on the other hand, home to the German High Command, had a pretty cushy war (from the point of view of damage to infrastructure), and can thus lay claim to having by far the greater number of authentic historic buildings. Most buildings in Warsaw that appear to pre-date 1945 will in fact be reconstructions, with only a handful of exceptions.
In terms of genuine historic bricks and mortar, Krakow wins comfortably, but when we include historic happenings it's hard to argue against the scale and tragedy of the 1944 Warsaw uprising, even in a country where uprising can sometimes seem like a national sport. Split decision.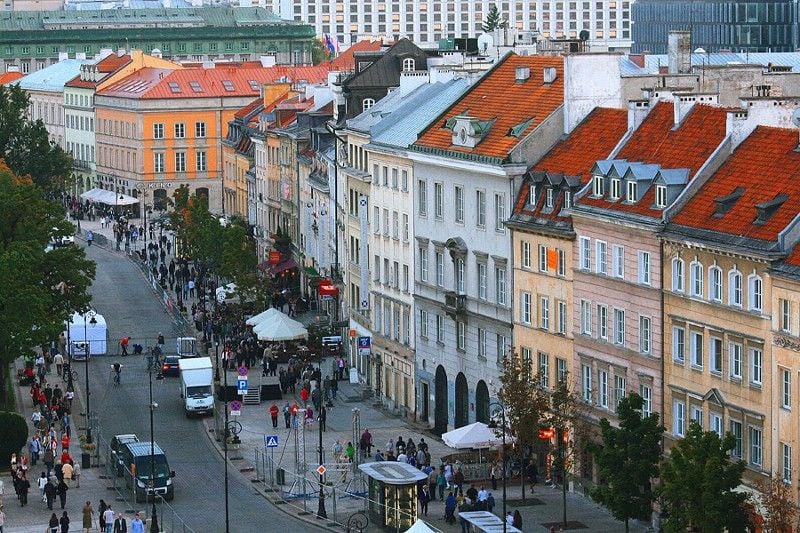 Round 2: Population
Krakow may be Poland's second largest city with a population of around 800,000, but Warsaw's greater metropolitan area trumps that comfortably with a whopping 2.7 million. Warsaw wins this one easily.
Round 3: Culture
Now this one is always guaranteed to cause arguments. The simplistic view is that erudite, softly-spoken Cracovian intellectuals rather look down their elegant noses at the fast-paced, noisy, money-fixated Varsovians. The counter to this is the disdain hard-working Warsaw folk feel for the procrastinating head-in-the-clouds citizens of Krakow.
The truth, as ever, is a little harder pin down. Yes, Warsaw is where the money is, wages and prices are higher, downtown Warsaw is stuffed with skyscrapers and the number of large black 4x4s with privacy glass could easily persuade you that the CIA has its European HQ here. But Warsaw has a top university with a fine academic reputation. There are many museums ranging from the sadly inevitable but brilliant Uprising Museum, via more traditional museums, to such oddities as the Museum of Caricature and Cartoon Art, or the Museum of Measurement. In addition the Praga district, across the River Vistula from the city centre, has been transformed from a frankly rather dodgy part of town into the happening area for hip young folk (if you're from Krakow and feeling homesick, check out the wonderful  W Oparach Absurdu Bar). Praga is also where you'll find the brand new National Stadium and the greatest number of surviving pre-war buildings.
Krakow's cultural riposte includes the 14th century Jagiellonian University, the magnificent Old Town district and imposing Main Market Square, hip Kazimierz where all the groovy people hang out (and where thousands upon thousands of Jewish visitors come each year to take part in the Jewish Festival of Culture or try to learn how their ancestors lived) or simply any one of the literally hundreds of bars (a fair few of which are glitzy enough to placate a disgruntled visitor from Warsaw) within staggering distance of the city centre. But modern Krakow is increasingly popular with foreign multinationals, which see the potential of its educated (and invariably multilingual) workforce together with Krakow's enviable transport connections. The number of black 4x4s is also creeping up.
This round is close, but Krakow shades it by virtue of being European Capital of Culture in 2000 (and because Wikipedia says that it is Poland's unofficial cultural capital).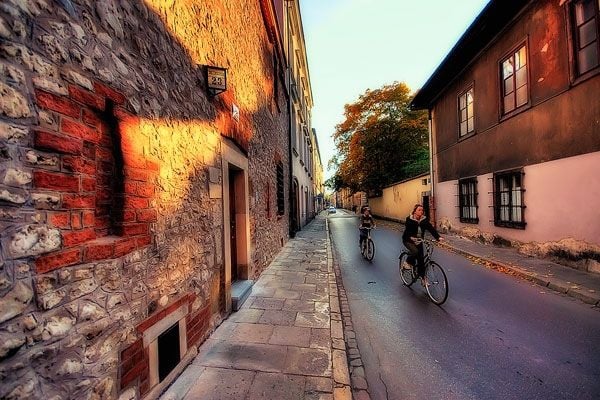 Round 4: Travel Connections
Until very recently, Krakow edged this one. Both our combatants are served by international airports, but Krakow's has had the benefit of a direct rail shuttle into the city for some time. However, the Euro 2012 Championship held jointly by Poland and Ukraine gave the country's slow-moving infrastructure improvements a much-needed kick to the rear. As of 2012 Warsaw now has a direct rail link from its main airport into town, plus a highway connecting the city with Germany to the West (again, a privilege Krakow has enjoyed for a few years already).
Perhaps surprisingly, rail connections between the two cities are equally good, with the journey from Warsaw to Krakow taking roughly three hours, and the return trip taking almost exactly the same amount of time.
Some might argue that Krakow just wins this due to Katowice International Airport being close enough to count as a reasonable second choice, but Warsaw's Frédéric Chopin Airport is by far Poland's biggest and busiest. And if that wasn't enough, Warsaw now has a second airport – Warsaw-Modlin – operational since July 2012 and primarily for low-cost carriers. Warsaw's round.
Round 5: Quality of Life
This is when the gloves come off. Occupants of both cities tend to be fiercely defensive of their own towns' unimpeachable merits whilst wasting no opportunity to slag off the competition: Krakow is a sleepy little backwater stuffed with alcoholic wannabe intellectuals who talk a good fight but would prefer the actual engagement took place tomorrow – or next week, or whenever. Warsaw's thrusting yuppies are obsessed with money, German cars, designer clothes, anything Apple, property prices, money (again) and have all the cultural sensitivity of an electric drill.
Warsaw is the more international city and ultimately offers more choice in such areas as shopping, dining and going out . But Krakow has a growing number of top restaurants, and the large numbers of foreign students add a decidedly multicultural flavour. Who wins this round is down to your personal preference, dear Reader.
Summary
In a nutshell: Warsaw is fast, Krakow is slow. Warsaw thinks it's Europe's New York, Krakow thinks it's a cross between Oxford and Rome, only better than either. Like all Poles, residents of our two antagonists are both fiercely defensive and strangely apologetic about their nation. The sensible visitor would be advised to sample both in all their glorious differences.